the MAN from U.N.C.L.E.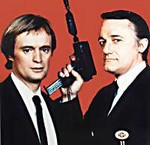 Amerikaanse actie Tv serie over de U.N.C.L.E. agenten Napoleon Solo en Illya Kuryakin, van het Verenigde Netwerk Bevel voor Ordehandhaving (in het engels UNCLE the United Network Command for Law-Enforcement), die tegen het kwaad vechten genaamd, THRUSH met charme, verstand en een oneindig assortiment van gadgets gebruiken.



Uitgezonden vanaf 1964 door ??