the HISTORY of TOM JONES
a FOUNDLING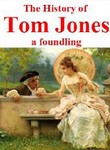 Engelse Mini TV serie over Tom Jones een vondeling die door de rijke en goede meneer Allworthy wordt opgenomen. Door een misverstand weggestuurd, belandt hij in Londen en na een reeks avonturen blijkt hij Allworthy's erfgenaam te zijn.



Uitgezonden in 2002 door ??