BIGFOOT and the MUSCLE MACHINES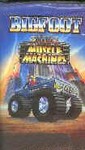 Amerikaanse animatie TV serie over een groep van 5 mensen die mostertrucks besturen. Hun leider is Yank Justice, hij bestuurt de mostertruck Bigfoot. Red & Redder (tweelingzussen, zij besturen de Black Gold), Professor Dee (bestuurder van de Orange Blossom Special), en Close McCall (bestuurder van War Lord).
Met deze trucks beleven ze vele avonturen en pakken criminelen, terroristen en ander kwaad aan.

Uitgezonden tijdens FUNFACTORY in ??
HIERONDER de LINKEN van deze TV SERIE