AMAZING CHAN and the CHAN CLAN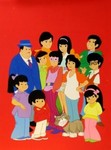 Amerikaanse tekenfilm TV serie over Charlie Chan, een detective die geholpen werd door de rockgroep "the Chan Clan" een groep bestaande uit 10 kinderen en de hond Chu Chu.
De Clan toerde rond in een bestelwagen die kon veranderen in verschillende voertuigen, afhankelijk van wat nodig was voor de camouflage.

Uitgezonden door ??
HIERONDER de LINKEN van deze TV SERIE